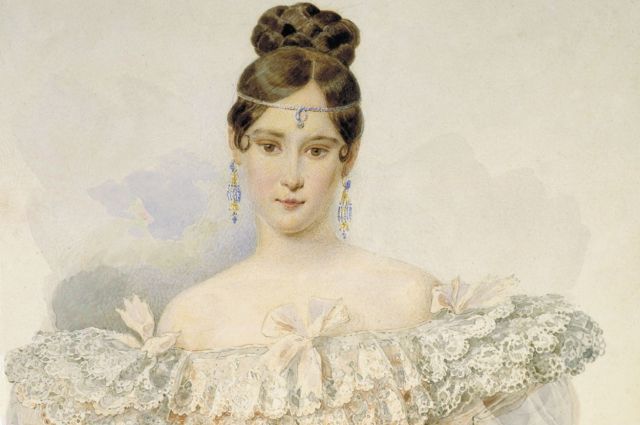 220 years ago, on September 8, 1812 Natalia Goncharova was born. She could have been forgotten, as millions of her peers were forgotten. But Natalie had a different fate — and this fate ensured her place in history.
To the anniversary of the first beauty of St. Petersburg, as contemporaries called the wife of the poet Alexander Pushkin.
1. She was able to bewitch the poet with her beauty
Pushkin met his future wife in Moscow at the ball of the dancer Yogel.
It happened in ; December 1828 Natalie was 16 years old. She has just begun to go out into the light.
"Never before with such a sad feeling did I come to a ball. A secret premonition tormented me and agitated my soul.Pyotr Vyazemskysaid something to me and pointed at young ladies who had first appeared in secular society. And suddenly, some force made me turn around.
I saw her — in a transparent cloud of flounces and laces, in a crowd of young admirers, surrounded by numerous relatives and acquaintances… I stepped towards my destiny», — the poet wrote.
2. They were undeservedly accused of coquetry
Natalie Goncharova was a recognized beauty, but at the same time, she was deprived of the vanity and mannership that distinguished secular ladies. "The main charm of Natalie was the absence of any affectation and & nbsp; naturalness. Most thought she coquette, but the accusation is unfair.
— Merci, Monsieur, — she will say, thanking the gentleman for some kind of service, and will say it quite simply, but so sweet and with such a charming smile and looks so that the poor gentleman does sleep all night, thinks and looks for a chance once again hear this "merci, monsieur". And — recalled Nadezhda Yeropkina, who knew Goncharova from a young age.
3. Pushkin waited a year for his parents' consent
Six months after they met, in April 1829, Alexander Pushkin proposed to young Natalya. The girl's mother answered evasively, didn't give her consent, but didn't stop the courtship of the famous poet. She argued such an indistinct answer by the young age of the bride. Pushkin waited a year before Goncharova's parents agreed to the marriage. The wedding took place on February 18, 1831. The couple got married in Moscow in the Church of the Great Ascension.
4. Changed eight apartments in six years
The young family settled in Moscow, on Arbat, in house 53. But the couple lived here for only three months. At the wish of the poet, the newlyweds moved to Tsarskoe Selo near St. Petersburg. For the rest of their life together, the couple lived in Petersburg. At the same time, they often moved — in the six years allotted to their family by fate, they changed eight apartments. Their last refuge was the apartment on Moika, where the mortally wounded Pushkin was brought and where he died.
5. Called her "oblique Madonna"
Natalya Goncharova was reputed to be the first beauty of St. Petersburg, but this did not stop Pushkin from teasing his wife. Natalya had a slight squint, which, as contemporaries wrote, gave her a special charm and did not spoil her appearance at all. Pushkin, however, sincerely loving Natalie, sometimes called his wife "Slanting Madonna". But he allowed himself such liberties only in the family circle. In poems the same that he dedicated to his wife, he called not other than the purest beauty, the purest example.
In marriage with Natalie Pushkin was absolutely happy. There is a lot of evidence for this in his letters to friends. So, the poet wrote to Pletnev: «I married — and happy; my only wish is that nothing in my life will change — can't wait for better. This state is so new to me that it seems I reborn».
6. The eldest daughter died of starvation
Four children were born in the family in six years of marriage. The eldest daughter at the time of the death of the poet was five years old, the youngest child was a baby.
The eldest Mary was born in 1832 . She grew up as a well-educated young lady. By the age of ten, she was already fluent in French and German. She graduated from the Catherine Institute and became the maid of honor of the Empress. Of all the children of Pushkin, Maria lived the longest. The daughter of the great poet died in Moscow, but already in Soviet Russia. She died in 1919 from starvation and cold.
Son Alexander was born in 1833 . He devoted himself to military affairs, rose to the rank of general. Participated in Crimean and Russian-Turkish wars. He was awarded the Order of St. Anna of the 2nd degree, the Order of St. Vladimir of the 4th degree, a golden weapon with the inscription "For" courage " and many others. He was a father of many children (raised more than ten children). Died in 1914 .
Second son — Gregory — also devoted himself to military affairs. He retired with the rank of lieutenant colonel. He died in 1905 year.
The youngest daughter Natalia, born in 1836 year, like mother, was reputed to be a beauty. Married Prince Nicholas Wilhelm of Nassau. The only one of Pushkin's children, she died abroad, death overtook her in 1913 in Cannes.
7. She went to the village to mourn her husband
Natalie was 25 years old when Pushkin died. The poet's friends, describing the grief of the widow, wrote that they feared that she would go crazy from grief. Left with four children in arms and unswept grief, the young woman withdrew for several years to the village, where she led a solitary life. In letters to relatives, she admitted that only in prayer to God she finds relief in her grief over her dead husband.
8. The second marriage turned out to be happy
The need to educate children forced Pushkin's widow to return to Petersburg after a while. Seven years after the death of the poet, Natalie remarried Lieutenant General Pyotr Lanskoy. In this union, the couple had three common daughters. Natalie greatly appreciated that Lanskoy did not distinguish between his own children and Pushkin's children, whom he brought up as his own.
A letter from Goncharova to her second husband has been preserved, which speaks of her relationship with Lansky. "Empty words cannot replace a love like yours. Having instilled such a feeling in you with the help of God, I cherish them. I'm no longer at the age of and I'm dizzy with success. You might think that I wasted my 37 years. This age gives a woman life experience, and I can give real value to the words — wrote Goncharova. — Vanity of vanities, everything is just vanity, except for love for God, and, I add, love for your husband when he loves as much as my husband does».
9. Early death
Pushkin's widow died at less than 52 years. Her health began to deteriorate already in 1861. She was tormented by bouts of severe coughing. Doctors advised to change the climate. For the sake of this, a large family left the place and went to Germany. But this, alas, did not help. In the autumn of 1863, Natalia went to the christening of her grandson in Moscow and caught a bad cold. This led to inflammation of the lungs. Pushkin's widow died on November 26, 1863. And was buried in the necropolis of the Alexander Nevsky Lavra in St. Petersburg, where, after a while, general Lanskoy also rested next to her.
Rate the material