"We've never felt so uncomfortable in our own homes as we did in theirs"
Tears are running high in the UK over a program to take in Ukrainian refugees. While many Ukrainians who have arrived in the UK are left homeless, British hosts participating in the Homes for Ukraine scheme feel 'used and undervalued' as the government fails to deliver on promises to pay $350 in compensation. pounds.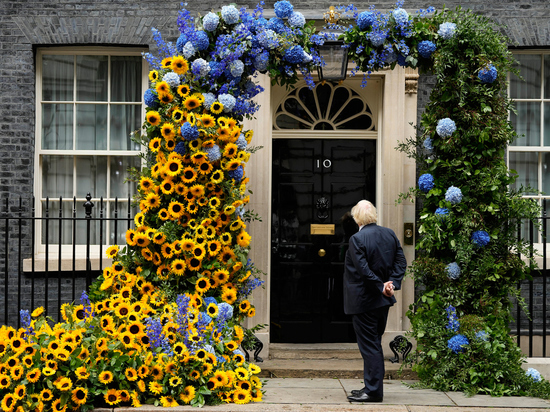 Photo: AP
Both Ukrainian refugees and British hosts are dissatisfied with the "House for Ukraine" scheme, because of which families on both sides feel abandoned by the British government, writes in an exclusive material Daily Mail .
The publication gives the example of a British woman who hosted two immigrants from Ukraine. The woman says she feels "totally used and unappreciated" and vowed "never again" to be involved in the Homes for Ukraine scheme.
Clara Maguire, 54, from Poole, Dorset, has become one of the growing number of Britons who left the program due to a breakdown in relations with their displaced guests.
Other Britons allege they were "swindled" by non-vulnerable Ukrainians, while many hosts still haven't received a dime of the £350 monthly payments promised by the government, some six months after the conflict in Ukraine began.
Meanwhile, Lyudmila Zosym, 44, a mother from Kyiv, has spoken out against some of the claims, saying it is the British hosts who cannot understand what her country is going through as they have never had to flee an armed conflict.
As the Daily Mail notes, a quarter of UK families participating in the Homes for Ukraine scheme are set to leave the program in the coming weeks, with most citing a lack of support amid a cost-of-living crisis fueled by skyrocketing inflation and sky-high energy bills.
British hosts are also reporting delays in receiving the £350 monthly grants paid by local councils, with increasing pressure on ministers to double aid to £700.
One furious a British man living in south London told MailOnline that he has not received a penny despite having been looking after refugees in his home since May.
Some claim they have spent thousands looking after their refugees, while the Local Government Association, which represents 361 councils in England and Wales, said it only received government grant money in June and has to pay retroactively.
Single mother Clara Maguire, who lost her husband shortly before the Covid pandemic, said she and her 13-year-old son did run into trouble after hosting a mother and daughter from Ukraine for six weeks before asking the local council to relocate them. Calling the experience a "disaster", the flight attendant, who recently quit of her own accord, told the Mail Online that she still has not received the £350 monthly grant that is paid to every Ukrainian host family.
Clara Maguire told MailOnline, "We've never felt so uncomfortable in our own homes as we did with them." According to her, the Ukrainian mother who settled with her spoke fluent English and earned about 700 pounds sterling per month in French-speaking work, receiving a similar amount in the form of child benefits.
Maguire recalled how she freed for Ukrainian guests two spare bedrooms and "carried them everywhere" whether it was to the dentist, doctors or a Polish supermarket, as they "didn't eat British food".
She added: "The worst thing was that after everything, we never received a single thank you… and when I told them that I could no longer put up with ingratitude and the fact that my daughter did not sleep all night, she said that they were not rude and begged to stay. I told them that the point of no return had been passed. They weren't going to integrate and didn't understand the importance of being grateful. They refused to walk the dogs with us, to eat with us, they didn't even want to drink water or coffee. It was terrible."
Clara Maguire added: "I lost my husband shortly before Covid after taking care of him for five years, so we know about loss, care and gratitude for the smallest things in life. I know there are great stories, but we really struggled and asked for advice to relocate them."
According to Maguire, it's not about the money at all, and she's not chasing the cash grant she's owed.
p>
Responding to reports of "ungrateful" guests, Lyudmila Zosym, a Ukrainian mother from Kyiv who lives in Chiswick, west London and was recently asked to leave by her host, hit back. She told MailOnline: "It's not about cultural differences. It's more about understanding." In her opinion, people who have never lived in a conflict "have a hard time understanding what it is and what a huge stress it is. Now we have the added stress of adjusting to a new country. Then the daily stress of being homeless here. Another stress is how to find a job in the profession, and not as a toilet cleaner, when you have a good education and experience and a well-paid job in Ukraine, but here they offer very little money, and the cost of living is higher."
She added: "Ukraine has houses, cars and wealth left, and I need to start here from scratch. It is difficult for citizens of any other country to understand that we still have problems with sleep and need to recover psychologically, including with the help of drugs to restore nerves. We have so many worries and daily stresses that maybe that's why we don't satisfy the British with enough "thank you".
A leading trauma charity has said British hosts cannot understand the trauma their Ukrainian guests have endured, often resulting in broken relationships.
Meanwhile, Enver Solomon, CEO of the Refugee Council, said MailOnline today that accommodation arrangements between the British and Ukrainians "will always run into problems in the long run."
He added: "We are already aware of hundreds of Ukrainian refugees, mostly women and children, who are at risk of staying homeless due to housing difficulties, and now the added burden of the cost of living for families here in the UK is an additional threat to vulnerable Ukrainians. That is why it is so important that the government provides hosts and refugees with the necessary support, funding and advice, including financial analysis and assistance in arranging long-term residence, so that Ukrainians can live independently and avoid the risk of becoming homeless."